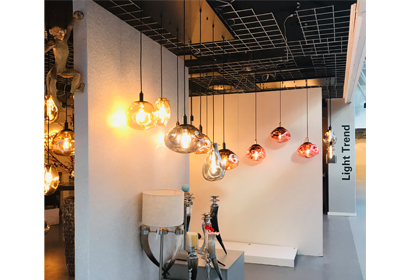 Light Trend is a compact and unique company, which is specialised in the development and delivery of classic and modern lighting to the lighting- and furniture shops in Holland, Belgium, Germany and meanwhile also in other European countries.
The company exists more than 20 years.

Light Trend offers a wide program of in- and outdoor lighting, like pendant-, floor-, table-, wall- and cealing lamps, LED spotlights and is very strong in the development and sales of chandeliers with high quality cristal.

Because Light Trend is self importing, the products have a very good price and one can be sure of an excellent quality. Many lamps can also be ordered custom made. We take care of a prompt delivery for existing products and for the custom made lamps for special projects as well.

In addition tot he above mentioned lighting, Light Trend is also busy with the development and sales of different kinds of LED products, as LED burners with G4 and G9 fittings, LED filament light bulbs with E14 and E27 fittings as well as the energy saving and sustainable LED panels for ceilings in different sices, lightcolours and RGB.

We offer you an excellent guaranty and service and do our utmost to maintain a long lasting relationship.